The Conservatives have an environmental problem.
The reason for it starts with their voter base. It was illustrated very clearly by the Angus Reid Institute, in a poll released in early May. Simply put, CPC voters are isolated when it comes to climate change and the causes of climate change.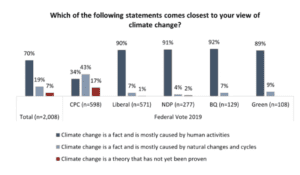 90% of the other main parties' voters believe climate change is a fact and is mostly caused by human activities – not so for the CPC voters.
This is a tricky spot for Erin O'Toole to be in. We saw it play out at the CPC Convention, when a mere few days after he presented his climate plan with bells and whistles, Conservative delegates at the party's policy convention voted to reject adding that the party believes "climate change is real" and is "willing to act" to the CPC policy book.
"The debate is over", stated O'Toole, in an attempt to ignore the fact that his own party is very much debating it to this day. Not so fast. In fact, this week, Conservative MPs unanimously voted to promote the oil and gas industries and opposed obstacles to its expansion. Another nail in the CPC's credibility on the environment.
The motion, introduced by Edmonton Conservative MP Ziad Aboultaif, is extensive. While there are things that are hard to quibble with in it: yes, we still need gas to heat homes and schools; of course, Canadian resources create Canadian jobs; yes, tax revenue from the fossil fuel industry contributes to the national treasury; but taken as a whole, it feels mostly like the systemic defense of the ways of the past.
There are a few gems in there, too. Replacing oil and gas with more environmentally sustainable options is not technologically or economically feasible, apparently. The Conservatives should inform Ford to pull the plug on the launch of their F-150 Lightning Electric Truck
And the climax: "tax and regulatory barriers limiting the responsible growth of Canada's oil and gas industry should be removed." Really, now?
How does that jive with O'Toole's environmental plan, which promised to meet the greenhouse gas reduction targets adopted by Canada? "Canada cannot ignore the reality of climate change," the environmental platform states. So why do Conservatives keep acting like Canada should?
O'Toole's plan also proposed to introduce a carbon pricing scheme – don't call it a tax, surely – that would directly reward consumers with a form of "Gas Miles Rewards" paid in return for their consumption. The more you burn, the more rewards you get!
Equiterre's director of government relations, (and former colleague) Marc-André Viau, said it best: "Calling for the weakening of environmental regulations to encourage the expansion of the oil and gas sector is the equivalent of living in a world of unicorns."
Either you believe in climate change, or you don't. Either you act accordingly, or you don't. These types of CPC rearguard actions might be red meat for the CPC base, but it doesn't fly with the rest of the voting universe. It undermines any green-friendly proposals that seek to bring them in, as they lack credibility.
Worse, it leaves the Liberal government off-the-hook with their own unicorns, starting with the nationalization of a pipeline and large subsidies to the oil and gas sector, while failing to do what's needed for Canada to meet its greenhouse gas reduction targets. Liberals can get away with this because they just need to point to their right: "I'm with stupid." The climate crisis cannot and will not be solved within this political dynamic.
Photo Credit: CBC News